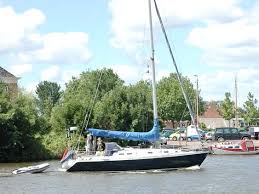 There is only one known example of a Pegasus 1100, originally built in 1988.
Pegasus bought the moulds and a set of mouldings from Contessa when they went into liquidation in the 80s. It is not clear if they used this set of mouldings although an 1100 was seen being moulded in the sheds of Pegasus Yachts Limited. They had two wing keels cast, one was fitted to hull number 1 and the second just sculled around the yard and "generally got in the way", it was last seen there in 1995. Kevin T and Gordon H who ran the company at the time never formally admitted that the 1100 was essentially a Contessa 34.
Hull #1 was sold to a gentleman on the Norfolk boads but it passed to his wife as part of a divorce settlement. Shortly afterwards she (the boat, not his wife) went up for sale at the yard for approximately £37k and was eventually sold. In 1992 she then went to the Netherlands where as of 2018 she still resides owned by a member of the PYOC.
Characteristics
DIMENSIONS
LOA
10.3m
33' 10"
LWL
8.83m
28' 4"
Beam
3.45m
11' 4"
Draft
see keel
Headroom
1.85m
6' 1"
Displacement
unknown
Ballast
unknown
SAIL AREAS
Combined
53.95 m2
580 sq ft
CAPACITIES
Water
45 litres
10 gallons
180 litres
10 + 30 gallons*
Diesel
90 litres
20 gallons
Engine
Volvo 2002
18HP
Volvo 2003
28HP*
KEEL
Fin
1.84m
6' 0"
Wing
1.22m
4' 0"
LAYOUTS
A
2 cabins + saloon, aft head, chart table
B
2 cabins + saloon, fwd head, chart table, larger galley
C
2 cabins + saloon, fwd head, ensuit to aft cabin, large galley
* = deluxe specification
Archive
Click on the link to download or open the document
Sales Brochure
Parts and pricelists
Plans and Technical bulletins
Articles