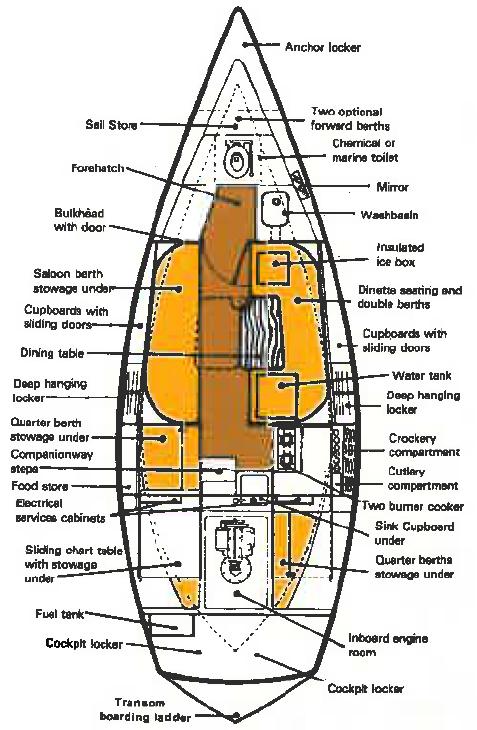 Rudgeway marine PEGASUS 800 Brochure text
A sleek new twenty size footer that really is designed to give you the opportunity of both cruising in great comfort and racing very competitively in the one boat. Six foot headroom in the exceptionally well planned interior and the generous beam combine to make this truly handsome yacht seem so much larger.
Under sail you will appreciate what a fine sea-kindly yacht she is. The vee'd forward sections and high aspect ratio sail plan give her the ability to point high without slamming, with the partly balanced skeg mounted rudder making for remarkably responsive steering. The generous ballast ratio imparts great stiffness and enables her to drive hard in all weathers. The high free-board makes her a dry boat to sail.
Motoring tends to be an afterthought with some designs but we felt that the engine installation should receive special consideration so we have built in a separate compartment isolated from the cabin interior with access through a large hatch in the cockpit sole. The standard inboard petrol twin cylinder motor and the optional Volvo 7 hp. diesel on the latest low maintenance "Sailboat Drive" unit both give quiet/ smooth, fuss-free power which makes motoring a pleasure.
On deck you will notice the special fittings designed Just for the Pegasus. Form the substantial stemhead fitting, with its twin rollers and mooring cleats, to the cunning foot blocks let into the cockpil coamings to give a perfect jib sheet lead to the winches, they are all extremely robust and functional. Whether cruising or racing no one likes going forward so we have integrated turning blocks into the cabin top grab rails enabling you to lead up to ten controls aft to the cockpit if you wish. When you do go on deck you will enjoy the great feeling of security because of ihe non slip surface everywhere, the uncluttered foredeck with not one fitting to trip over, and the strongly mounted double guardrails. A deep anchor well is included and also a solidly made, glazed flush fore hatch for easy sail handling. We even offer a pushpit with built-in boarding ladder,
The cockpit is large, self draining and well organised with all controls falling easily to hand. The seals are contoured For greater comfort and will hold you steady when the boat heels. Two good lockers are provided to take your fenders, warps, sails and so on.
Below decks there is an air of quiet luxury with the chesterfield style deep seating all round the extendable dining table In the big main saloon. Above the berths are a range of ten cupboards with sliding doors Two of which contain hanging lockers. Another incorporates crockery and cutlery compartments, Beneath the bridge deck is a deep sink with, to starboard, a solid Teak galley unit with two burner stove, and, to port, a large chart table with chart stowage under, Both units slide back to reveal two quarter berths. Built under the sink unit is a pots and pans cupboard. On the inside of the cockpit bulkhead are two cabinets to give access to the electrics and instruments. All the stowage under the berths is contained In moulded bins as is the ice box. The curtains, deep pile carpet and carefully chosen fabrics for the cushions blend with the handsome teak interior finish to give an expensively finished look.
In the forecabin, through the door in the bulkhead, can be either a chemical or marine loo in a special easy-to-clean compartment also a built-in washbasin and mirror. Forward is a large shelf for sail stowage. We also offer the option of a set of cushions enabling this area to double as a twin full length berth cabin making possible seven berths in all.
Ventilation is taken care of by the forehatch and an ingenious arrangement whereby the top main cabin door washboard can be angled to make a louvred opening,
Overall, Pegasus is solidly built, nicely detailed and well finished. You will have to see one of these remarkable yachts to appreciate it fully. It offers extremely good value for money and is already a best seller. Contact your nearest agent straight away and arrange a demonstration sail. You may regret it if you don't.